What BestPlanPro Has To Offer
"The goal of BestPlanPro is to create an efficient, predictable, and effective underwriting calculator.  We want to empower Final Expense agents to sell the best product for their clients to maintain maximum placement and retention.  We want to have the best documented platform and the best, user-focused technology."
Zachary Bornheimer
CEO of Software Automation Holdings
Lead developer of BestPlanPro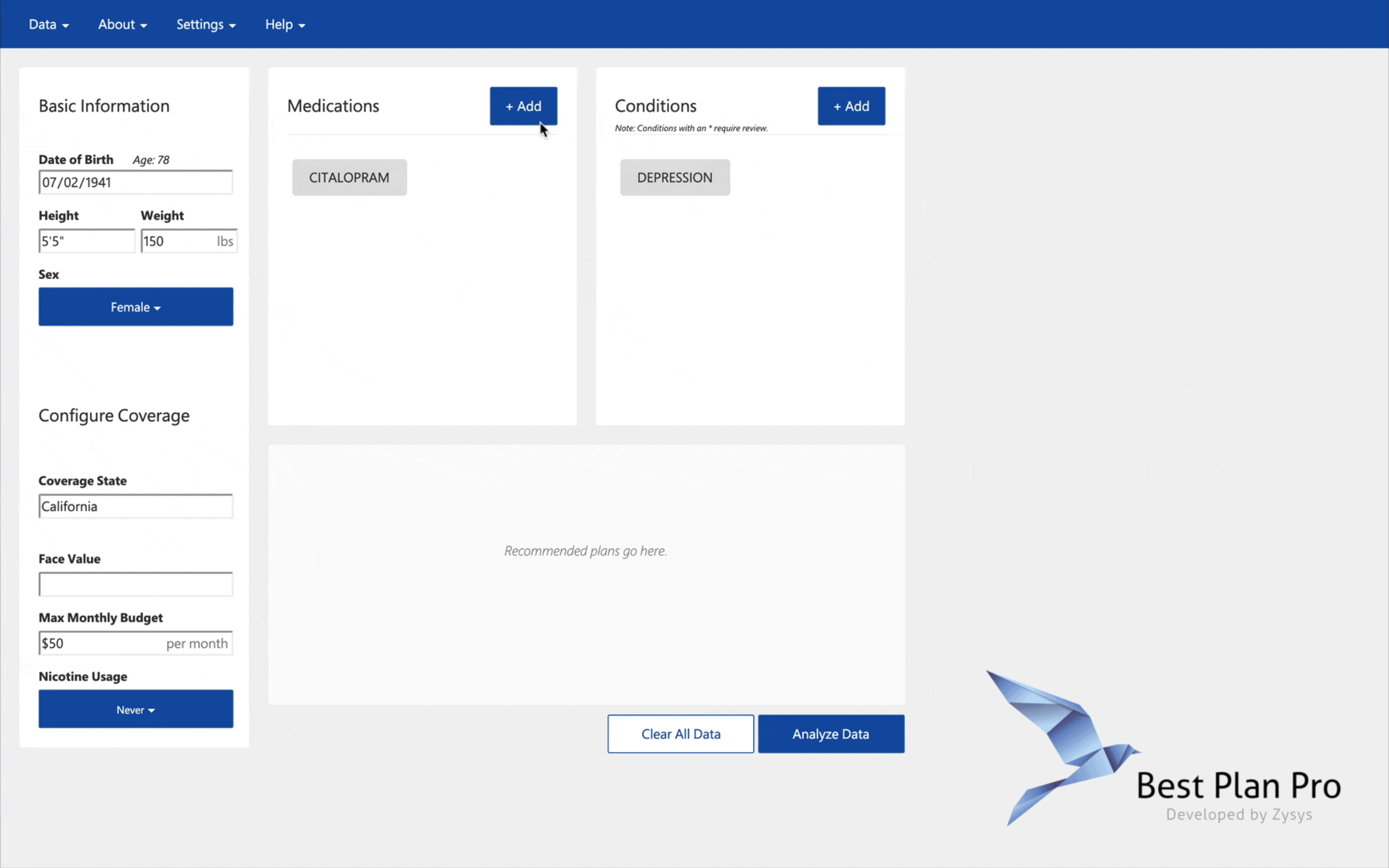 "Best Plan Pro is simply the best underwriting software available to independent agents. No matter how complex the underwriting case is, Best Plan Pro can tell you with almost perfect accuracy what carrier will accept your client as well as the rating class, just in a few clicks. I highly recommend the product for agents needing additional help underwriting their final expense prospects."
David Duford, DavidDuford.com
"I've grateful Ric and his team have finally created a software program that helps with FE underwriting. It saves me at least 30 minutes per case and allows me to be a better insurance adviser to my clients."
Joe T, Florida
"Best Plan Pro has been a game changer for me and my team. Being able to have a system in place that gives us a quick and consistent answers is amazing. Its increasing our persistency and making the team place business quicker and help more clients. Big win all around recommend this to every agent that onboard with me."
Nate D, Nebraska
"I'm using it right now.  It's so great !   Yesterday I spent hours comparing plans and trying to find best deal for a guy with different meds.  It took half the day.   Now I just entered the info and it took 5 min.   Ok this is a game changer !!"
Monica G, Texas
"I actually use this software to train my agents before they go into the field. Its a GREAT training tool to know the different niches of the carriers and know where to place the client"
Bob G, Ohio
"This software is necessary in my opinion. When a client hands you a printed list of medications you need to check carriers for after you already checked medical conditions, the time saved is money! Time is money in this business. They aren't getting nervous about being accepted for coverage and we aren't becoming frustrated. Thank you, Best Plan Pro for taking the guesswork out of my job!"
Neesi L., Pennsylvania
"This is going to change the industry and how agents do business! I highly recommend!"
Adam R, North Carolina
"POLICY APPROVED AND ISSUED!!
Thank you BEST PLAN PRO,
I would of never used Mutual of Omaha before for the combination of Rx's and ailments this client had.
I wrote contract late Friday afternoon.
Now that's impressive. Thanks again Ric and your brainchild."
Pete G, North Carolina
"I love this program.  It has proven itself to be ahead of the curve for even the seasoned FE agents.  I hope that it continues to exist!!!"
Tyler P, North Carolina
Love this program. It has made a huge difference in my business.
Dean B., California
"[Best Plan Pro] is phenomenal and can't be in the business without it."
Karen R, Florida
"To say that I LOVE Best Plan Pro is an understatement. As a new agent, I especially don't know what I'd do without it!"
Clare L, North Carolina
"I used Best Plan Pro in the field and it worked like magic. I got a deal I normally would have gotten because I was 100% sure some medications would knock out my customer.  Best Plan Pro said good to go and it was right.  Wow.  Thank you."
Robert R, California
"Saves me a ton of time underwriting. I'm doing telesales so it only takes a couple minutes to load their info in and get a result in even the most complex individual. You don't have a long awkward silence while they are waiting for you to finish."
Michael C, Iowa
"I've never thanked someone for starting a business. But, as they say, there's always a first. So thanks. I'm a newly licensed agent specializing in final expense. I'm very confident in my sales ability, but I have little confidence in my ability to quickly sift through all the possibilities. In addition, I was afraid that i would select the wrong solutions. So this has provided me with a great deal of confidence and I will treat my clients correctly."
Harris M, Connecticut
"This is the most wonderful tool!  My time in the home has been cut in half with Best Plan Pro, and gives me credibility with my clients."
Renee S, Ohio
"Most apps I had over a 90%+ placement ratio. Before [Best Plan Pro] I was at 70%"
Michael C, California
"It's the best quoter by far that I've found."
Jorge P, Florida
"This has made my life as an agent much easier and made the process much more convenient for my clients."
Daniel W, Arizona
"I wrote a policy with Mutual (graded) and it came in at $17.11.
Without the software, I would have just gone to Aetna at $27. My client was happy and she said she would refer her friend."
Michael W, Florida
AIG (GIWL, SimpliNow Legacy)
Aetna (Accendo, Protection Series, and Individual Whole Life)
American Amicable (Clear Choice, Golden Solution, Innovative Solutions, Platinum Solution, Senior's Choice, Tribute)
Americo (Eagle Premier)
American Home Life (Guidestar, Patriot Series)
ANTEX (Strategy Whole Life)
Assurant  (Final Expense)
Baltimore Life (Silver Guard)
Centrian Legacy (Living Legacy)
Cigna (Individual Whole Life)
Columbian Life (Dignified Choice)
Everest IA American (Advantage 50 Plus)
Family Benefit Life (Golden Eagle)
Federal Life (Express Choice)
Fidelity Life (RAPIDecision, RAPIDecision Senior Life)
First Guaranty Insurance (Security Care)
Foresters (Plan Right)
Gerber (Guaranteed Issue)
GCU (Eternal Advantage)
GPM Life (Secure Mark)***
Great Western (Great Assurance, Assurance Plus/Final Expense)***

Guarantee Trust Life (Heritage Plan)
KSKJ (Final Expense)***
Life Shield (Survivor)***
Lumico (Simplified Issue)
Liberty Bankers (SIMPL)***
Nassau (Remembrance Life)
Mutual of Omaha (Living Promise)
Occidental Life (Clear Choice, Golden Solution, Innovative Solutions, Platinum Solution, Senior's Choice, Tribute)
Oxford Life (Simplified Issue)***
Pekin (Whole Life [Preferred/Simplified Issue/Graded])***
Pioneer American (Independent American)
Prosperity/SBLI (New Vista)
Royal Arcanum (Simplified Issue)
Royal Neighbors (SIWL)
SBLI (Living Legacy)
SBLI (a Prosperity Company) (Golden Promise)
Security National Life (Simple Security Plan)
Sentinel Security Life (New Vantage)
Senior Life (Whole Life)
Sons of Norway (Final Expense)***
TransAmerica (Solution)
Trinity Life (Golden Eagle)
United Home Life / United Farm and Family (Whole Life)***
*** Using Artificial Intelligence, we've been able to make underwriting assessments for these carriers that they were unable to disclose detailed underwriting data (even though they wanted to help).  These carriers are experimental.  Please let us know if you run into any issues.
Experimental Carriers
Best Plan Pro currently offers support for a few carriers in experimental product type categories.
Experimental Term Support:
American Amicable (Easy Term, Home Protector, Term Made Simple)
Americo (HMS Plus)
Foresters (Strong Foundation, Your Term)
GTL (Turbo Term)
Hero Life (Term Life)
Mutual of Omaha (Term Life Express)
Prosperity (Family Freedom Term)
Sagicor (Sage Term)
Senior Life (Term)
Suggest a Term Carrier/Product here.
Experimental Medicare Supplement Support:
Aetna Medsup
Aetna Accendo Medsup
Mutual of Omaha Medsup
Manhattan Life Medsup
Suggest a Medsup Carrier/Product here.
More coming soon.
Other Products:
Preneed:
Global Atlantic (Simple Protection Plan)
For other options, contact us!
Built-in quoting engine (including quoting multiple face amounts at the same time)
Automatic Processing of:

Age
Height
Weight
Medications (with their Generic Equivalents)
Conditions
Face value / Maximum Monthly Budget
State Restrictions

Platforms:

Windows: Desktop Download, for offline use
Internet-Based: Use on your tablet or phone...anywhere you have an internet connection

Data:

Save Data to a .bpp file
Load Data from a .bpp file
Email Data
Copy Data to Clipboard
Get a link to share the case

Apples to Apples Results:

Products sorted by price & coverage type (day 1 coverage moves to the top of the list)
The Plan Info Window gives you all information you need to decide on a policy including plan-specific definitions (like what graded means for a particular carrier, what the carrier considers nicotine usage, etc.)

Rapid Development
High Level of Accuracy (always working to improve accuracy)

90.53%

accurate on

3101 Cases Studies

approx. 106,678 Correct Tests

Last Updated: Jul 6, 2019 12:08pm
Please note, we're working on a new accuracy measurement protocol.
Replacement/Solution for:

Cheat sheets
Chat rooms
Underwriting Guides
Constant Calls to your up-line manager
Declines once you submit the application
Awkward silence while trying to place someone with a carrier

Be able to sell more than your 3 go to plans CONFIDENTLY
Increase placement
Helps prevent oversights in medical history probing
Useful for organizing data for cross-selling
Maintains dates for recall later (for case re-evaluation)
Quote multiple face amounts at the same time considering underwriting restrictions
More than 100,000 known medication & uses
Automatic learning for new medications
Intelligent typo corrections for medication names and condition names
Don't see one of your favorite carriers?
We have intentionally excluded several carriers from the BestPlanPro software.  We felt the below carriers did not provide enough underwriting information to allow the software to make an underwriting assessment that meets our strict standards of accuracy.  If you would like one of the below carriers, or any other carriers to be added, please contact your sales representative for that carrier, and have them call our toll-free number to discuss being added to the plan.  Unlike many software companies we do not charge the carriers for participation in the plan, and we welcome the opportunity to add as many carriers as we can.  We will always strive to enhance our product and provide the best service we can to our users.
Motorists

Standard Life and Casualty
We've deployed experimental underwriting technology using Artificial Intelligence for the following carriers that used to be excluded.  Please let us know if you run into any issues with any of these carriers:
GPM Life

KSKJ Life

Liberty Bankers

Life Shield

Oxford Life

United Home Life / United Farm and Family