Can I get a plain-text copy of the data I can send to an underwriter if I have a question or to someone on my team if they don't have Best Plan Pro?
This question encouraged the development of the Copy Data feature for BPP Online.
Where it is.
On BestPlanPro Online, this feature can be found under Data > Copy Data the keyboard shortcut Ctrl + ! works as well (depending on your browser).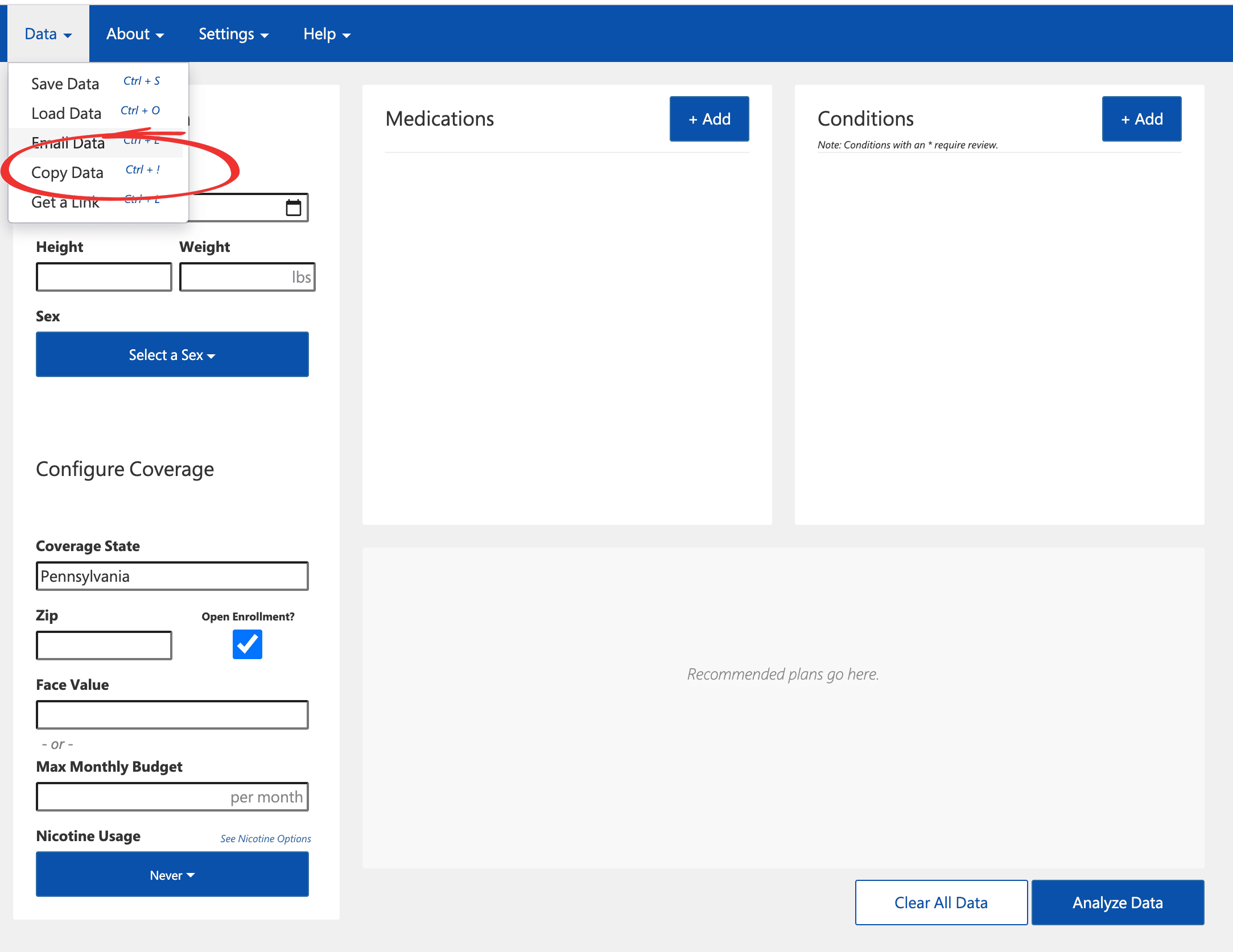 (This feature doesn't exist on Best Plan Pro Windows Edition.)
What you get.
Something like the following will be copied to your clipboard:
Proposed Insured Details (from BPP)
Basic Information
    DOB: 12/17/1953
    SEX: Female
    HEIGHT: 5"2'
    WEIGHT: 208
    ZIP: 
    Open Enrollment: false
    NICOTINE LAST USE: Within the Last 12 months
Coverage Information
    REQUESTED FACE VALUE: $7,500
MEDICATIONS (First Fill = F, Last FILL = L)
    METFORMIN for DIABETES at dosage 0 F (08/05/2020) L (08/05/2020)
    METOPROLOL for HIGH BLOOD PRESSURE (CONTROLLED) at dosage 0 F (08/05/2020) L (08/05/2020)
    GABAPENTIN for PAIN at dosage 0 F (08/05/2020) L (08/05/2020)
    ARIPIPRAZOLE for DEPRESSION at dosage 0 F (08/05/2020) L (08/05/2020)
CONDITIONS (Diagnosed/Most Recent Event = Dx, Last Treatment = LT)
    DIABETES Dx (08/05/2020) LT (08/05/2020)
    HIGH BLOOD PRESSURE (CONTROLLED) Dx (08/05/2020) LT (08/05/2020)
    PAIN Dx (08/05/2020) LT (08/05/2020)
    DEPRESSION Dx (08/05/2020) LT (08/05/2020)

This was generated using this case: case.bestplanpro.com/OJ5iTBPyIju
(this link was generated using the Get a Link feature)